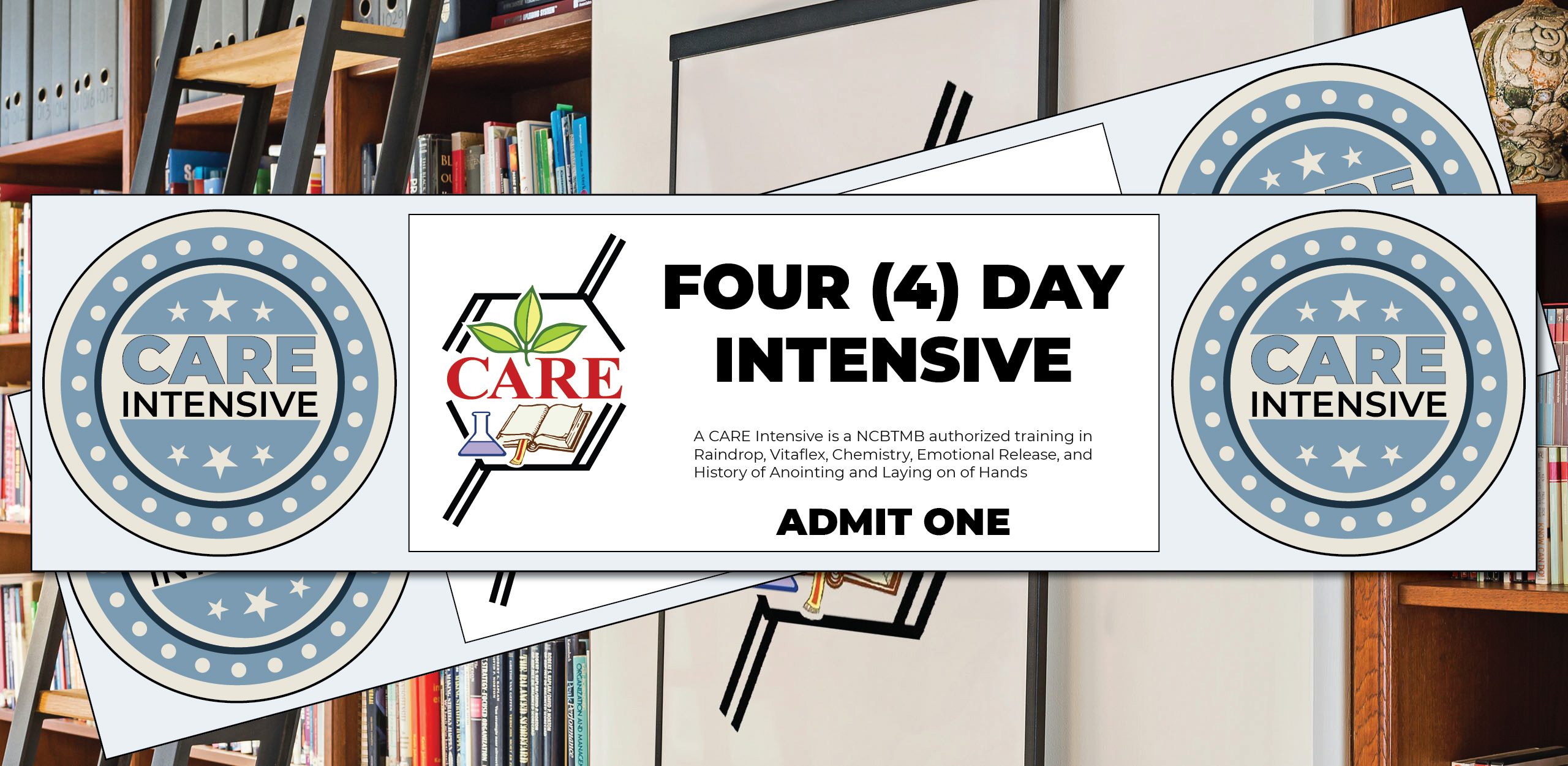 4 Day Intensive- Michigan City IN
October
05,
2023
-
October
08,
2023
Typical class schedules and requirements
Click on one of the buttons above to learn about the typical format for the class including schedule and requirements. These are presented as a suggested format and your instructor may do things differently. When you Reserve Your Seat any changes to these suggested schedules will be provided.
6
No, Only collect attendee information.
RAINDROP, VITAFLEX, BIBLE OILS, EMOTIONAL RELEASE, CHEMISTRY 1&2
Instructors:
Amelia Lasky, FCCI, CRTS, LSH, CIC
Please contact Amelia Lasky at Amelialasky@gmail.com for registration information.
RAINDROP, VITAFLEX, HISTORY OF ANOINTING, CHEMISTRY, EMOTIONAL RELEASE
"CARE's mission is a spiritual one. It is a ministry that addresses the needs of God's people to be healed spiritually, physically, emotionally, and socially." In Jeremiah 3:15, God says, "I will give you pastors (spiritual teachers) according to Mine heart, which shall feed you with knowledge and understanding." In Ephesians 4:11-12, we read that God gives us gifts, and that among them is the gift of teaching "for the work of the ministry." We read in I Corinthians 12:28 that God appoints some to be prophets and others to be teachers and healers. The CARE program is designed to discover those with gifts of teaching and healing, to help them to nurture and expand on their gifts, and to provide an avenue to apply their abilities within God's plan among his children." From pages 9-10 of the CCI Handbook
This will be a three-day NCBTMB (25 CE hr / 2.5 CEU) authorized training in Raindrop, Vitaflex, Chemistry, Emotional Release and History of Anointing with Oils and Laying on of Hands which provides practical applied aromatherapy skills for healing professionals who choose to integrate essential oils into their practices as well as for the non-professionals who are empowering themselves to increase the health and wellbeing of themselves, family and friends. Participating in a CARE Intensive can lead to the status of Certified Raindrop Technique Specialist as well as that of Certified CARE Instructor.
Participants completing the training will:
~ Understand the Fundamentals of Aromatherapy
~ Understand the Science and Chemistry of Essential Oils
~ Learn to Apply Useful Skills in Vitaflex
~ Learn to do Raindrop Technique
~ Learn how Essential Oils Can be Used for Emotional Releasing
CONTINUING EDUCATION CREDIT:
The Center for Aromatherapy Research and Education is recognized as a continuing education approved provider by both the National Certification Board for Therapeutic Massage and Bodywork (NCBTMB).
GET LICENSED AS A CRTS AND LSH:
Learn how to become a Certified Raindrop Technique Specialist (CRTS) and Licensed Spiritual Health Coach (LSHC) or Licensed Spiritual Healer (LSH) through CARE and legally practice Raindrop and Vitaflex throughout the U.S. and Canada. CRTS's and CCI's are listed on the CARE website in the Directory of Approved CARE Raindrop Facilitators (ACRF) which is arranged geographically and to which people refer when seeking a Raindrop Facilitator in their area.
CONTACT INFORMATION:
Amelia Lasky (facebook page)
amelialasky@gmail.com
219-258-4600
PROGRAM LOCATION:
Private Residence in Michigan City, IN 46360
Address provided upon registration
Please contact for suggestions for accommodations, if needed.
SEMINAR DAILY FORMAT:
-Thursday
5pm: meet and greet
5:30 intro to CARE
6:00-8:00 Bible Oils
– Friday
9:00 AM . . . . Registration/Sign In
9:30 AM.….. .Chemistry I
12:30PM… . . .Lunch
1:30 PM….….Chemistry II
4:30 adjourn for the day
Saturday
8:45 AM . . . . Arrival
9:00AM………Vitaflex
1:00 PM … .. .Lunch Break
2:00 PM .. . . Emotional Release
7:00PM . . . . Adjourn for evening
Sunday
8:45AM………Arrival
9:00 AM . . . . Raindrop I
1:00PM . . .. .Lunch
2:00 PM . . . . Raindrop II
6:00 PM . . . . Adjourn Seminar
CREDIT HOURS & PRICES:
*Please contact Amelia for pricing specials, scholarships, and discounts!**
Individual Ala Carte Prices:
History of Anointing. . . $ 45
Applied Vitaflex . . . . . .$160
Raindrop. . . . . . . . . . . $365
Chemistry . . . . . . . . . . $250
Emotional Release . . . $195
Total Ala Carte Price . . . . . . $1,015 U.S. Dollars
PACKAGE PRICE FOR WHOLE PROGRAM (Intensive) $800
(a $215 savings from ala carte)
PACKAGE PRICE FOR WHOLE PROGRAM (All 25 hours) $800* U.S. (Save $90)
Individuals who have previously taken CARE classes may retake those classes at 1/2 price. (please indicate on form)
Payment Methods:
$100 non-refundable deposit must be submitted with completed registration form to secure spot. Paypal payments (friends and family option) sent to amelialasky@gmail.com. Other payment options are possible such as Venmo and Zelle. Please contact Amelia Lasky directly to make arrangements.
Remaining balance can be paid up to the morning of the first day of classes in cash, check, or other agreed upon payment method. Full refund less $50 for processing for cancellations no later than two weeks before the seminar date. No refunds after that date.
LIMITATIONS OF CLASS SIZE:
Registrations for Raindrop and Vitaflex are limited to 10 new students per instructor in order to keep class sizes small for better hands-on attention and training. Places cannot be reserved until full payment is received. Registration is on a First-Come basis. Preference will be given to those registering for the Full Intensive.
The History of Anointing, Chemistry I, Chemistry II, and Emotional Release classes are demonstration/lecture classes. There are no limitations on class size for these other than the seating capacity of the room. These classes are open to the public at ala carte prices with registrations taken at the door. Please reconfirm the status of the class prior to your attendance. Pre-registration is recommended for any portion of the CARE Intensive.
PRE-REQUISITES:
CARE Vitaflex is required before taking Raindrop I.
CARE Raindrop I is required before taking Raindrop II.
There are no pre-requisites for the History of Anointing, Chem I, Chem II, or Emotional Release classes.
WHAT IS INCLUDED:
Class Notes, CCI Handbook, Necessary Oils, and a Certificate acknowledging your participation in the course or courses taken.
WHAT TO BRING:
Bring two (2) sheets, one (1) large bath towel, and one (1) hand towel for Raindrop I and II. If you would be willing to bring a massage table, please mention this when you register, but it is not required. You are encouraged also to bring your Bible for the History of Anointing class.
**NAILS MUST BE CUT SHORT AND FILED SMOOTH!**
SEMINAR BOOKSTORE:
Texts and DVDs required for CCIs, as well as other publications, MAY be available for sale at the seminar. If you want the books and or DVDs, please mention this at registration.
While there are no texts required to take the CARE classes, if you own copies of
THE CHEMISTRY OF ESSENTIAL OILS MADE SIMPLE by Dr. David Stewart;
FEELINGS BURIED ALIVE NEVER DIE, by Karol Truman;
RELEASING EMOTIONAL PATTERNS by Carolyn Mein; and
HEAL YOUR BODY, by Louise Hay,
please bring them as they will be referred to often in the Chemistry and Emotional Release classes.
PREPARATION:
Your finger nails MUST be trimmed very short and filed smooth on the edges and corners in order to properly perform all of the Vitaflex and Raindrop techniques. Please remove ALL nail polish from fingers and toes (essential oils can remove nail polish causing it to get on sheets and on those practicing on you.). If you are unable to practice the techniques in class as taught because of long nails, you may not receive credit for the class. Clippers and files will be available in class.
Payment Plans:
I do have them available, but they are limited so please inquire.
"For my thoughts are not your thoughts, neither are your ways my ways," declares the Lord.9 "As the heavens are higher than the earth, so are my ways higher than your ways and my thoughts than your thoughts. Isaiah 55: 8-9
Pray over this and Ask God to guide you! I am here if you have any questions–
Amelia Lasky 219-256-4800