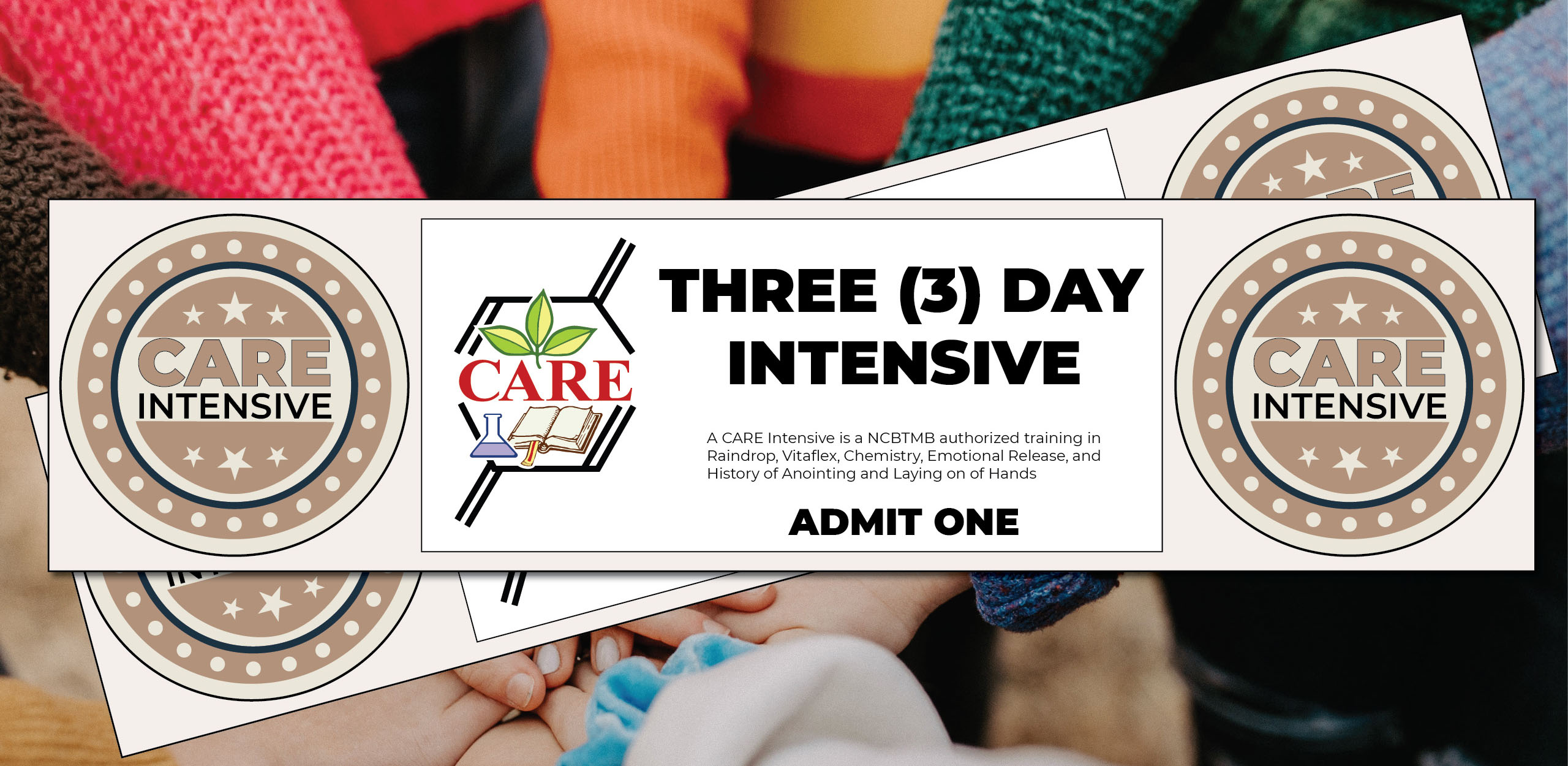 3 DAY INTENSIVE – ST. PAUL MINNESOTA
October
13,
2023
-
October
15,
2023
Typical class schedules and requirements
Click on one of the buttons above to learn about the typical format for the class including schedule and requirements. These are presented as a suggested format and your instructor may do things differently. When you Reserve Your Seat any changes to these suggested schedules will be provided.
Attend This Training
When you request to attend this training you will be asked to provide your name and email address. The Instructor will then reach out with payment arrangements and location information.
Reserve your seat for this event.
This 3-day CARE Intensive in Raindrop, Vitaflex, Chemistry, Emotional Release and the History of Anointing with Oils and Laying on of Hands is for healing professionals as well as non-professionals who are empowering themselves to increase the health and well-being of their family, friends and themselves.
Participants completing training will:
Understand the fundamentals of Aromatherapy
Learn to apply useful skills in Vitaflex
Understand how essential oils can lead to Emotional Release
Be trained to do Raindrop Technique – a powerful tool supporting structural alignment and emotional and electrical balance.
Acquire basic knowledge of Essential Oil Chemistry
CONTINUING EDUCATION CREDIT
The Center for Aromatherapy Research and Education is approved by the
National Certification Board for Therapeutic Massage and Bodywork
(NCBTMB) – (25 CE hours) as a continuing education Approved Provider.
CRP LICENSE:
Taking the full intensive is the first step in becoming a Certified Raindrop Technique Specialist (CRTS) by the Natural Therapies Certification Board (ntcb.org) This provides legal status for the Raindrop Technique in the U.S. and Canada.
CONTACT:
Tammy Struebing, LCCI, BCRS, LSH
714 South First Street
Albion, NE 68620
tstruebing@gmail.com
Cell: (402) 741-1574
IMPORTANT NOTE: Online Registration is NOT available for this intensive. Please register directly with contact person, Tammy Struebing, LCCI, given above. Please make checks payable to: Tammy Struebing / Major Credit Cards accepted
SEMINAR LOCATION:
Holiday Inn St. Paul Lake Elmo
8511 Hudson Blvd.
Lake Elmo, MN 55042
Phone: (651) 714-8068
Airport: Minneapolis St. Paul International
Program Format and Pricing:
First Day – Friday, October 13th
8:45 AM Registration
9:00 AM Introduction to CARE
9:30 AM – 12:30 PM Essential Oil Chemistry – Part 1 (lecture)
12:30 PM – 1:45 PM Lunch
1:45 PM – 4:45 PM Essential Oil Chemistry – Part 2 (lecture)
4:45 PM – 5:00 PM Snack Break
5:00 PM – 7:00 PM History of Anointing Oils
7:00 PM – Adjourn
Second Day – Saturday, October 14th
8:30 AM – 12:30 PM Applied Vitaflex (lecture, demo, hands-on)
12:30 PM – 1:30 PM Lunch
1:30 PM – 5:30 PM Raindrop Technique – Part 1 (lecture, demo)
5:30 PM – 6:30 PM Dinner
6:30 PM – 8:30 PM Raindrop Technique – Part 2A (hands-on)
8:30 PM – Adjourn
Third Day – Sunday, October 15th
8:30 AM – 10:30 PM Raindrop Technique Part 2B (hands-on cont.)
10:30 AM – 12:30 PM Emotional Release with Oils, Part 1 (lecture, demo)
12:30 AM – 1:30 PM Lunch
1:30 PM – 4:30 PM Emotional Release, Part 2
4:30 PM – Adjourn
INTENSIVE FEES
History of Anointing……………..… $45
Applied Vitaflex…………………….$160
Chemistry……………………………$250
Emotional Release…………………..$195
Raindrop……………………………..$365
Total Ala Carte Price……………..$1,015
Package Price………………….…..$800
Save $215 (21%) by pre-registering for the ENTIRE program.
REPEATS MAY ATTEND FULL INTENSIVE OR INDIVIDUAL CLASSES AT HALF-PRICE.
* REGISTRATIONS ARE LIMITED FOR RAINDROP AND VITAFLEX. PAY IN FULL TO GUARANTEE A PLACE IN THE INTENSIVE. Please make check payable to Tammy Struebing. Major credit cards accepted. .
* WALK-INS WELCOME FOR HISTORY OF ANOINTING, CHEMISTRY AND EMOTIONAL RELEASE.
REFUNDS: Full refund less $50 for processing of cancellations no later than two weeks before the seminar date.
* PRE-REQUISITES: All persons seeking practical knowledge and skills in the healing art and science of applied aromatherapy are encouraged to participate in CARE Intensives. Vitaflex is required before taking Raindrop. There are no pre-requisites for the History of Anointing, Chemistry or Emotional Release Classes.
WHAT IS INCLUDED:
Class notes, necessary oils and certificates acknowledging your participation in the course or courses are included in the seminar fees.
WHAT TO BRING:
Two (2) sheets, two (2) bath towels, one (1) hand towel. If you are attending the History of Anointing class, please bring a Bible. If you have a massage table and are willing to bring it to class, please indicate this at registration. If you have "The Chemistry of Essential Oils Made Simple" by Dr. David Stewart, please bring it for Chemistry class. If you have "Feelings Buried Alive" by Karol Truman, "Heal Your Body" by Louise Hay and "Releasing Emotional Patterns With Essential Oils" by Carolyn Mein, please bring these for Emotional Release class. These books ARE NOT REQUIRED for class but we will be utilizing them. They will be for sale at class in the C.A.R.E. Intensive Bookstore if you wish to purchase them.
SEMINAR BOOKSTORE:
Texts and videos required for CCIs, as well as other publications, will be available for sale at the seminar.
Bio:
Tammy R. Struebing is a Fully Certified CARE Instructor (FCCI), Board Certified Raindrop Specialist (BCRS) and Licensed Spiritual Healer (LSH). She holds a B.S. degree in Medical Technology with a minor in chemistry. She is certified as a Bach Flower Practitioner, Registered Wellness Consultant, QXCI Biofeedback Technician and Raindrop Practitioner. She has advanced training in Reiki, LaHo Chi, Chemistry and Emotional Release and practices at her business, Olive Branch Healing Arts. She has taught CARE Intensives in Italy and across the U.S. to include Omaha, Anchorage, Seattle, Des Moines, Fargo, Kansas City, St. Louis, St. Paul and Tomah, Brookfield and Madison, WI. In May 2007, she received special training in Raindrop Technique with Dr. Gary Young in Ecuador. In November 2007, she taught the "Chemistry of Essential Oils" at the Institute of Energy Wellness Studies in Toronto, Canada with Dr. Sabina DeVita.
WHAT STUDENTS SAY ABOUT TAMMY AS A CARE INSTRUCTOR:
The time was very precious and a blessing! Tammy is pouring her love all day long amongst us and her tears, when she shares her deep spiritual feelings for the oils, touched my heart. She is a wonderful teacher, a beautiful woman and a very dear and special friend to me.
Dr. Gabrielle Hauser, Vienna, Austria
This little group is really special! We were supported by so many angels and the highest spirit "Jesus". I love this training!
Vijay Churfuerst-Hanzal, Vienna, Austria
This is a program for everyone. It will change their lives for a much better future. Make you a new person who belongs to God.
Dermot Bailey, Niestetal, Germany
It was such a pleasure to take this course that incorporates God and an appreciation for his gifts. Tammy is an excellent instructor, knows the subject matter so well and inspires me to become like her. She evidently really cares for people and encourages us in our learning. A++ for her and the course.
Jacqueline Bettinger, Belleville, WI
Tammy is a gift from God – pure and simple. She affects and changes people with her gentle, caring and knowing remarks.
Kimberly Freeman, Madison, WI
Tammy is such a high energy woman and a walking testimony to angels on earth. We have all been touched and blessed by her skills.
Kathy Blencoe, Holmen, WI
This is the 1st time I met Tammy. She is loving, caring and totally filled with the Love of God and the Holy Spirit.
Sue Martin, Stoughton, WI
Tammy's training was insightful and growthful. She created a loving, accepting and supportive environment for learning and discovery. Vitaflex was the most thorough I've ever been trained on. The chemistry course was made simple to understand. I have been taught other versions of Raindrop, but I found this class was the most thorough and easy to understand. The emotional release was beautiful to witness and experience. I highly recommend the CARE program to everyone who wishes to be awakened to the oils and chooses a deeper understanding of their magnificence!
Monica Goldberg, Madison, WI
Tammy was a loving and gracious instructor. Humble in the sense she is only the facilitator and all healing as it is only through her, not from her. I learned a lot.
Jean Anne Blessing, Madison, WI
CARE MAIL-IN REGISTRATION FORM
Location of Seminar_____________________________________
Dates of Seminar_______________________________________
Circle class(es) . .FULL . .AWH . .VF . .RD1 . .RD2 . .CH1 . .CH2 . .ER
Your Name____________________________________________
Address______________________________________________
City_________________________________________________
State/Province__________________ Zip/Postal Code__________
Day Phone____________________________________________
Evening Phone_________________________________________
Email Address_________________________________________
Amt. Paid $____________ Check Number______________
OR Credit Card: Type: _____Visa______MC
CC#_____________________ Exp. Date_______ CVV#_______
Exact Name on CC_____________________________________
Would You Be Willing to Bring a Massage Table?_____________
Send Registration to:
Tammy Struebing
714 S. 1st St.
Albion, NE 68620
Cell: (402) 741-1574
tstruebing@gmail.com