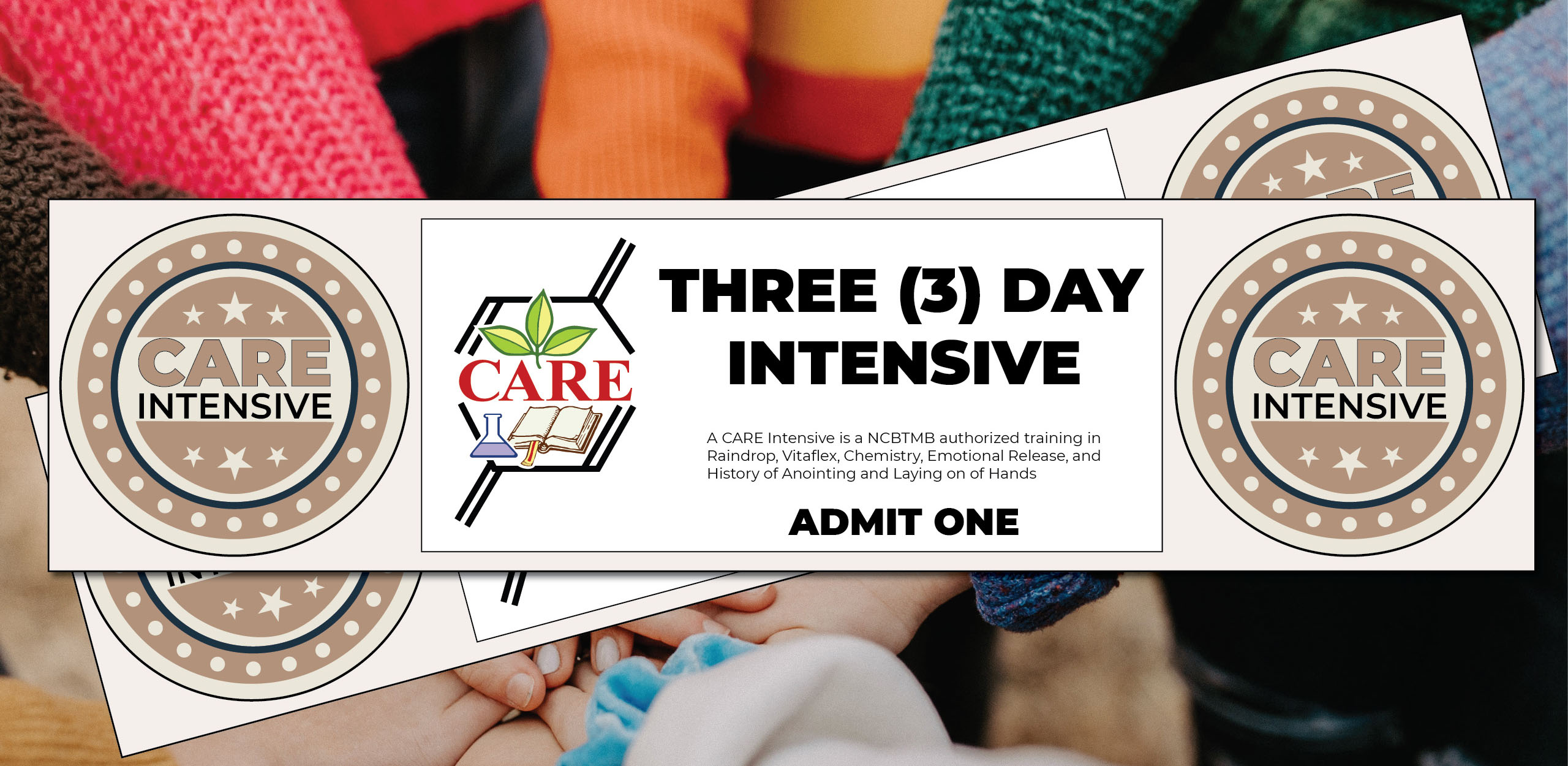 3 DAY INTENSIVE – PETALING JAYA MALAYSIA
October
06,
2023
-
October
08,
2023
Typical class schedules and requirements
Click on one of the buttons above to learn about the typical format for the class including schedule and requirements. These are presented as a suggested format and your instructor may do things differently. When you Reserve Your Seat any changes to these suggested schedules will be provided.
No, Only collect attendee information.
This will be a three-day workshop in Raindrop Technique, Vitaflex, Chemistry, Emotional Release and History of Anointing and Laying on of Hands -25 hours in practical applications of essential oils, as well as, 25 hours continuing education for massage therapists and body workers.
Participants completing the training will:
~ Understand the Fundamentals of Aromatherapy
~ Gain knowledge of the Science and Chemistry of Essential Oils
~ Demonstrate and Apply Useful Skills in Applied Vitaflex
~ Perform and Receive Raindrop Technique
~ Learn how Essential Oils Can be Used for Emotional Releasing
~ Learn the History of Ancient Scriptural Oils
CONTINUING EDUCATION CREDIT:
The Center for Aromatherapy Research and Education is approved by the National Certification Board for Therapeutic Massage and Bodywork (NCBTMB) as a continuing education Approved Provider. So anyone attending the full course will receive 25 CEUs.
CONTACTS
Robert Teasdale – robert@noahsarklifestyle.com. Mobile : 6 012 2011836
PAYMENT INFORMATION:
Bank transfer : UOB Malaysia – 1853003943 – Robert Teasdale
For payment plans contact Robert directly.
IMPORTANT NOTE: Online registration is NOT available for this CARE Program. Copy and paste the registration form found below into an email and send to robert@noahsarklifestyle.com as the main contact person.
PROGRAM VENUE :
Abliss Academy, Kota Damansara Selangor, Malaysia
HOTEL / AIRBNB ACCOMMODATIONS:
Upon request
NEAREST AIRPORTS:
Subang & Kuala Lumpur International Airport – KLIA & KLIA2
THE MODULES
RAINDROP TECHNIQUE
Raindrop originated in the 1980's through the research of Dr. D. Gary Young. Raindrop is a powerful, non-invasive tool integrating the arts of aromatic science with the techniques of Vitaflex and gentle applications of therapeutic grade oils on the feet and back. The purpose of Raindrop Technique is to stimulate every organ, muscle and bone at a cellular level bringing the body into structural and electrical balance, enabling the release of toxins wherever they may be. This may include emotions, those lodged in the mind and buried memories.
APPLIED VITAFLEX
Vitaflex is an ancient healing modality that was rediscovered by Stanley Burroughs in the late 1920's. Vitaflex is a digital electrical stimulation that activates neuro pathways, also delivering benefits of the essential oils. The body has a self-regulating electrical system that Vitaflex stimulates.
CHEMISTRY
Were you intimidated by the subject at school – relax this is a class meant for you with David Stewarts' amazing book ' Chemistry of Essential Oils Made Easy " . Acting as your companion and manual it's packed with a mine of information and cutting edge science on ; how the oils work at a cellular level; the missing link of intention where we can re-direct the energies embedded in the oils to transform and transmute our body systems back into stasis ; with references and sections that will answer most of your aromatherapy based questions.
EMOTIONAL RELEASE
Is emotional baggage keeping you from being the person you were designed to be? Clinical research shows that traumatic experiences are stored on a cellular level and have profound effects on one's emotions and the physical state of the body. During an Emotional Release session, essential oil blends are both applied and inhaled. These blends are formulated for their unique ability to:
~ Balance energies in the body and open the subconscious mind
~ Promote emotional release of negative stored memories
~ Program the mind with positive beliefs
Class Participants will acquire an understanding of how essential oils may facilitate clearing of negative emotional patterns through lecture, demonstration, and a "Break-Out" session.
HISTORY OF ANOINTING AND LAYING ON OF HANDS
Ancient Scripture is full of hundreds of references to "precious" oils: Aloes, Cassia, Frankincense, Galbanum, Hyssop, Balm, Spikenard, Cedarwood, Myrrh, and many more. They were considered: "the best products of the land," "the work of a skilled apothecary," "most holy" and "treasured gifts." This seminar will help clarify the valuable roles of essential oils in ancient and modern day health care and show how they are intricately designed by our Creator.
WHAT YOU CAN EXPECT
Upon Completion of the Applied Vitaflex Class you will be able to perform 13 Vitaflex Procedures, to understand the scientific basis for Vitaflex, to know when and to whom to apply them, and what benefits can be expected from their application.
Upon Completion of the Raindrop Technique Training you will be able to perform the entire Raindrop protocol, understand its limits and precautions, and know its potential benefits. This class also leads to you becoming a Certified Raindrop Practitioner.
Upon Completion of the Emotional Release Class you will be able to correlate physical maladies with repressed emotions, to use essential oils to locate emotional issues stored in the cells of the body, and will know how to release them for yourself and others.
Upon completion of the Chemistry class you will come to realize the connection between science and spirituality where ordinary people can learn to accomplish extra-ordinary things just as the creator intended.
Upon Completion of the History of Anointing and laying on of hands class you will be able to cite books of the Old and New Testaments containing information on essential oils as well as their Biblical and modern applications.
INTENSIVE DAILY SCHEDULE
FRIDAY 6th October
8.30AM – 9.30AM            Registration / Introduction to CARE
9:30 AM – 12:30 PM . . . . .Chemistry I
12:30 PM – 1:30 PM . . . . .Lunch on own
1:30 PM – 5:30 PM . . . . . .Applied Vitaflex
5.30PM – 6.30PM……….Break on own
6.30PM – 8.30PM………History of anointing & laying on of hands
SATURDAY 7th October
9:00 AM – 12:00 PM . . . . . . Chemistry II
12:00 PM – 1:00 PM . . . . . . Lunch on own
1:00 PM – 6:00 PM. . . . . . . .Emotional Release
SUNDAY 8th October
9:00 AM – 1:00 PM . . . . . Raindrop I
1:00 PM – 2:00 PM. . . . . . Lunch on own
2:00 PM – 6:00 PM. . . . . . . Raindrop II
6:00 PM – 7:00PM ……… Debriefing & photos
CREDIT HOURS & PRICES:
~Individual Course Credits & Ala Carte Prices
Applied Vitaflex . . . . . . . . . .   4 hours/0.4 CEUs . . . . . . . . . . $160 USD
History of Anointing . . . . . . . . 2 hours/0.2 CEUs . . . . . . . . . . $ 45 USD
Raindrop I & II . . . . . . . . . . . .  8 hours/0.8 CEUs . . . . . . . . . . $365 USD
Chemistry I & II . . . . . . . . . . . .6 hours/0.6 CEUs . . . . . . . . . .$250 USD
Emotional Release . . . . . . . .     5 hours/0.5 CEUs . . . . . . . . . .    $195 USD
TOTAL A LA CARTE PRICE . . . . . 25 hours . . . . . . . . . . . . $1015.00 US dollars
~SPECIAL PACKAGE PRICE  FOR WHOLE PROGRAM (All 25 hours) is U$800.00  (Save US$215)
 or RM3600.00 ( Subject to full payment made prior to July 15th 2023 )
LIMITATIONS OF CLASS SIZE:
Class sizes for Applied Vitaflex and Raindrop Technique are kept small for better hands-on attention and training…10 pax maximum.. So register early to assure a place.
Note, for the purposes of modesty, Stephanie will be teaching these classes.
As for the History of Anointing, Chem I, Chem II, and Emotional Release classes, these are demonstration/lecture classes and there are no limitations on class size for these beyond the seating capacity of the room. They are also all open to the public at a la carte prices with registrations taken at the door. However, pre-registration is also recommended for these portions of the CARE Intensive.
CARE students repeating classes may attend for half the a la carte prices.
PRE-REQUISITES:
CARE Applied Vitaflex is required before taking Raindrop I.
CARE Raindrop I is required before taking Raindrop II.
CARE Chemistry I is required before taking Chemistry II.
There are no pre-requisites for the History of Anointing, Chem I, or Emotional Release classes.
REFUNDS:
Full refund less $100 USD or RM450 for processing for cancellations no later than 4 weeks before Intensive start date.
WHAT IS INCLUDED:
Class Notes, Necessary Oils to use during classes, Handouts, a CCI Handbook and CARE Certificates acknowledging your participation in the course or courses taken.
WHAT TO BRING:
An open mind!
One (2) single sheet (fitted if possible), one blanket, one pillow case, TWO (2) bath towels and TWO (2) hand towel, Water bottle or flask.
While there are no texts required to take the CARE classes, if you own a copy of THE CHEMISTRY OF ESSENTIAL OILS MADE SIMPLE, please bring it along as it will be referred to often in the Chemistry classes. A few copies of this book will be available at the seminar if you don't have a copy.
If you choose, you may also bring along your own packed meals for the daily lunches and dinners as well as drinks and snacks.
PREPARATION:
Your fingernails must be very short and filed smooth on the edges and corners. (This includes acrylic nails!). Clippers and files will be available in class. With long nails you will not be able to do all of the Vitaflex and Raindrop techniques. You must also remove all nail polish and acrylic fillers on both hands and feet.
Please note: If you cannot perform all of the techniques taught in class because of long or painted nails, you will not receive credit for the class.
Ensure you are drinking water constantly the day prior, throughout the class days and after the course finishes to avoid adverse detox symptoms.
SEMINAR BOOKSTORE: Texts and DVDs, as well as other publications, will be available for sale at the seminar. There are required books and DVD's for those desiring to become a Certified CARE Instructor. Anyone desiring to purchase any books can pre- order them directly through Robert before the deadline and they will be delivered to you at the class.
Please bring along any of the following books that you may have with you to class:
Chemistry of essential oils made simple
EO Desk or Pocket Reference
Feelings Buried Alive Never Die
Heal Your Body
Healing for the age of Enlightenment
Healing Oils of the Bible
Releasing Emotional Patterns
Statistical Validation of Raindrop Technique
CARE INTENSIVE – KOTA DAMANSARA – SELANGOR.
6-8 October 2023 – Friday to Sunday
REGISTRATION FORM
Circle class(es) attending . ALL . HOA . . VF . . RD1 . . RD2 . . CH1 . .CH2 . . ER
Name ( For certification)____________________________________________
Address______________________________________________
_____________________________________________
_____________________________________________
City_________________________________________________
State/Province__________________ Postal Code__________
Mobile Phone ___________________________
Email Address_________________________________________
Amt. Paid ……………………
RM3600.00 – Full Intensive – 5 certificates
RM2565.00 – Basic – HOA/AV/RDI & II – 3 certificates
RM875.00 – Emotional Release only
RM1,125.00 – Chemistry I & II only
Kindly whatsapp bank transfer receipts to 6 012 2011836