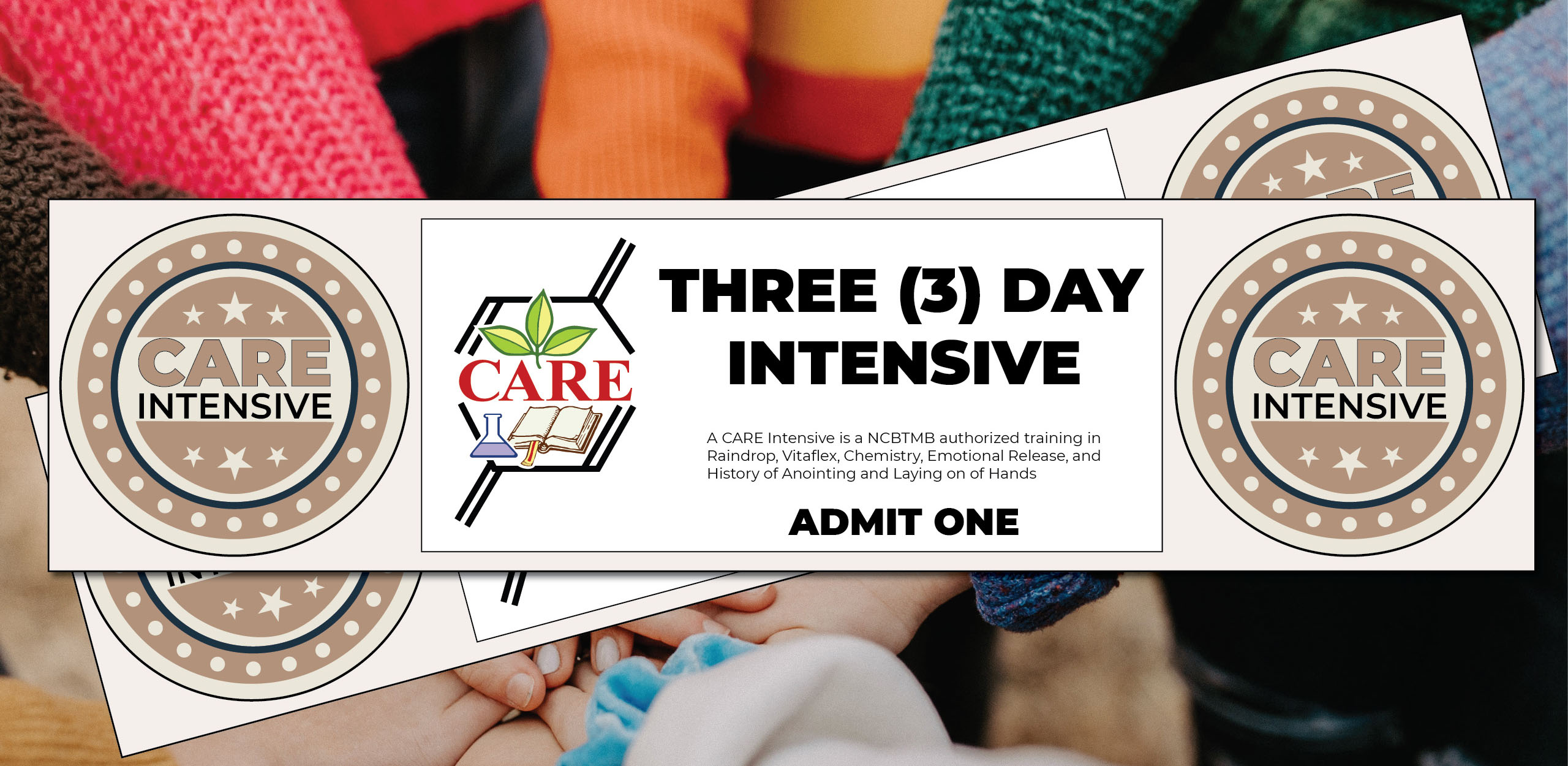 3 Day Intensive – Fraser-Winter Park Colorado
December
08,
2023
-
December
10,
2023
Typical class schedules and requirements
Click on one of the buttons above to learn about the typical format for the class including schedule and requirements. These are presented as a suggested format and your instructor may do things differently. When you Reserve Your Seat any changes to these suggested schedules will be provided.
Raindrop Technique Certification Training
Unlock the Power of Aromatherapy: Register Now for This Exciting Training Workshop Coming to the Colorado Rockies, Dec 2023!
Earn 25 CEs approved by NCBTMB
All Materials, Oils, Supplies, & Linens Provided
PROGRAM DETAILS
Location: Winter Park/ Fraser, Colorado
Specific location will be announced upon registration
FIRST DAY- FRIDAY, DECEMBER 8TH, 2023
9:00 AM – 11:30 AM – History of Anointing
11:30 AM – 12:00 PM – Intro to CARE
12 noon – 1:00 PM – Lunch (on your own)
1:00 PM – 4:00 PM – Chemistry I
4:10 PM — 7-10 PM – Chemistry II
7:15 PM Adjourn for the day
SECOND DAY- SATURDAY, DECEMBER 9, 2023
9:00 AM – 1:00 PM – Applied VitaFlex (lecture & Hands-On)
1:00 PM – 2:00 PM – Lunch (on your own)
2:00 PM – 6:00 PM – Raindrop Technique 1(Lecture, Demo)
6:00 PM – 8:00 PM — Raindrop Technique II (part 1) (Hands – On)
8:00 PM –Adjourn for Day
THIRD DAY- SUNDAY, DECEMBER 10, 2023
10:00 AM – 12:00 PM – Raindrop II(part 2)
12:00 PM – 1:00 PM – Lunch (on your own)
1:00 PM – 6:00 PM – Emotional Release
6:00 PM — 6:30 PM –Debrief, Q&A, Evaluations
6:30 PM – Program Adjourns
Each student earns CEs for every course, up to 25 CEs total for the full Intensive, which are approved by the NCBTMB for bodyworkers and healthcare professionals. These are included in your tuition for the full Intensive at no additional cost. Those opting for a la carte classes add $10 per course to receive the certificate for completed training mailed from the CARE Home Office in Marble Hill, MO following the training event. Completing these courses begins the certification process, which includes study, practice, and the examination following the training event.
CREDIT HOURS & PRICES:
History of Anointing 2 Credit Hours $ 45.00 USD
Applied Vitaflex 4 Credit Hours $160.00
Raindrop Technique 8 Credit Hours $365.00
Emotional Release 5 Credit Hours $195.00
Chemistry of EOs 6 Credit Hours $250.00
A la carte pricing 25 Credit Hours $1,015.00
PACKAGE 25 HOURS: $800.00 [SAVE $215]
WHAT TO BRING –
Class notes, necessary oils for class work, handouts, loaner books, linens, and a certificate acknowledging your participation in the course or courses are all included in Intensive Fees. Texts used in class and videos required for CRTS's and CCI's will be available for order at the Intensive. If you own Healing for the Age of Enlightenment, A Statistical Validation of Raindrop Technique, Heal Your Body, Feelings Buried Alive Never Die, Releasing Emotional Patterns with Essential Oils, or The Chemistry of Essential Oils Made Simple, please bring those books for your own benefit. Otherwise, free loaner books will be available for your use in class as well as for purchase.
**Participating in Raindrop and VitaFlex requires fingernails be cut very short and edges buffed smooth.**
The oils will compromise or remove artificial nails and nail polish from fingers and toes, so remove polish on both. Nails that are too long or painted will prevent participation in some or all of the VitaFlex and Raindrop training, resulting in no credit or certificates given for those classes.
Dress comfortably each day with easily maneuverable clothing such as yoga pants and comfortable shoes and be prepared to enjoy the program! Pack a shirt or jacket that buttons, snaps or zips up for Raindrop Day, which you can wear backward during your Raindrop. Wear a bra that day that opens in the back or bring a terry wrap, robe, OR be prepared to disrobe upper body only while under the sheet on the table. Avoid turtlenecks as we will need access to shoulders in each class.
If you would like to volunteer to bring a massage table for use in class, let me know at this time.