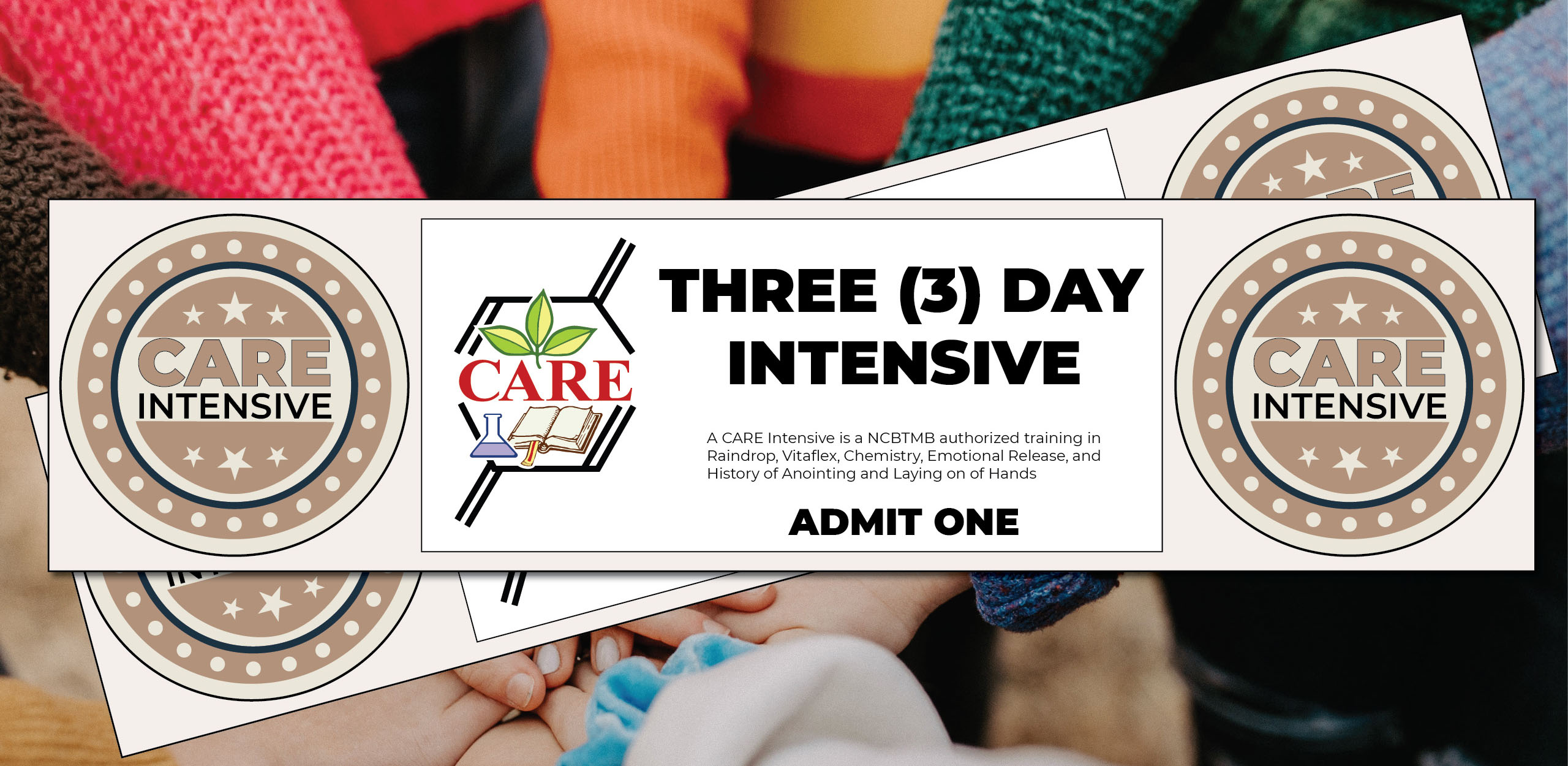 3 DAY INTENSIVE – ST. PAUL MN
June
23,
2023
-
June
25,
2023
Typical class schedules and requirements
Click on one of the buttons above to learn about the typical format for the class including schedule and requirements. These are presented as a suggested format and your instructor may do things differently. When you Reserve Your Seat any changes to these suggested schedules will be provided.
Program Format:
First Day – Friday, June 23rd
8:45 AM Registration
9:00 AM Introduction to CARE
9:30 AM – 12:30 PM Essential Oil Chemistry – Part 1 (lecture)
12:30 PM – 1:45 PM Lunch
1:45 PM – 4:45 PM Essential Oil Chemistry – Part 2 (lecture)
4:45 PM – 5:00 PM Snack Break
5:00 PM – 7:00 PM History of Anointing Oils
7:00 PM – Adjourn
Second Day – Saturday, June 24th
8:30 AM – 12:30 PM Applied Vitaflex (lecture, demo, hands-on)
12:30 PM – 1:30 PM Lunch
1:30 PM – 5:30 PM Raindrop Technique – Part 1 (lecture, demo)
5:30 PM – 6:30 PM Dinner
6:30 PM – 8:30 PM Raindrop Technique – Part 2A (hands-on)
8:30 PM – Adjourn
Third Day – Sunday, June 25th
8:30 AM – 10:30 PM Raindrop Technique Part 2B (hands-on cont.)
10:30 AM – 12:30 PM Emotional Release with Oils, Part 1 (lecture, demo)
12:30 AM – 1:30 PM Lunch
1:30 PM – 4:30 PM Emotional Release, Part 2
4:30 PM – Adjourn
IMPORTANT NOTE: Online registration is NOT available for this intensive. Please register directly with contact person, Tammy Struebing, LCCI. Cell: 402.741-1574 / email: tstruebing@gmail.com Please make checks payable to: Tammy Struebing / Major Credit Cards accepted.
Bio:
Tammy R. Struebing is a Lifetime Certified CARE Instructor (LCCI), Board Certified Raindrop Specialist (BCRS) and Licensed Spiritual Healer (LSH). She holds a B.S. degree in Medical Technology with a minor in chemistry. She is certified as a Bach Flower Practitioner, Registered Wellness Consultant, QXCI Biofeedback Technician and Raindrop Practitioner. She has advanced training in LaHo Chi, Chemistry and Emotional Release and practices at her business, Olive Branch Healing Arts. She has taught CARE Intensives in Italy and across the U.S. to include Omaha, Anchorage, Seattle, Des Moines, Fargo, Kansas City, St. Louis, St. Paul and Tomah, Brookfield and Madison, WI. In May 2007, she received special training in Raindrop Technique with Dr. Gary Young in Ecuador. In November 2007, she taught the "Chemistry of Essential Oils" at the Institute of Energy Wellness Studies in Toronto, Canada with Dr. Sabina DeVita.
WHAT STUDENTS SAY ABOUT TAMMY AS A CARE INSTRUCTOR:
The time was very precious and a blessing! Tammy is pouring her love all day long amongst us and her tears, when she shares her deep spiritual feelings for the oils, touched my heart. She is a wonderful teacher, a beautiful woman and a very dear and special friend to me.
Dr. Gabrielle Hauser, Vienna, Austria
This little group is really special! We were supported by so many angels and the highest spirit "Jesus". I love this training!
Vijay Churfuerst-Hanzal, Vienna, Austria
This is a program for everyone. It will change their lives for a much better future. Make you a new person who belongs to God.
Dermot Bailey, Niestetal, Germany
It was such a pleasure to take this course that incorporates God and an appreciation for his gifts. Tammy is an excellent instructor, knows the subject matter so well and inspires me to become like her. She evidently really cares for people and encourages us in our learning. A++ for her and the course.
Jacqueline Bettinger, Belleville, WI
Tammy is a gift from God – pure and simple. She affects and changes people with her gentle, caring and knowing remarks.
Kimberly Freeman, Madison, WI
Tammy is such a high energy woman and a walking testimony to angels on earth. We have all been touched and blessed by her skills.
Kathy Blencoe, Holmen, WI
This is the 1st time I met Tammy. She is loving, caring and totally filled with the Love of God and the Holy Spirit.
Sue Martin, Stoughton, WI
Tammy's training was insightful and growthful. She created a loving, accepting and supportive environment for learning and discovery. Vitaflex was the most thorough I've ever been trained on. The chemistry course was made simple to understand. I have been taught other versions of Raindrop, but I found this class was the most thorough and easy to understand. The emotional release was beautiful to witness and experience. I highly recommend the CARE program to everyone who wishes to be awakened to the oils and chooses a deeper understanding of their magnificence!
Monica Goldberg, Madison, WI
Tammy was a loving and gracious instructor. Humble in the sense she is only the facilitator and all healing as it is only through her, not from her. I learned a lot.
Jean Anne Blessing, Madison, WI